Birdwatching in the Danube Delta
Birdwatching is a form of creative tourism, in which is made a research of bird life and activities in their natural habitat. Most of the observation is made on auditory way, identification of the birds with the naked eye being difficult. For this, there are used different kind of equipment – binoculars, telescope or web cameras – to spot the birds and admire their movement and the colorful plumage.
The purpose of this activity is often scientific, but the curios tourists can also practice it for an incursion in the world of birds and ecologic education. The Danube Delta is the perfect destination from Romania to try birdwatching and follow some amazing species. To relax, to know the surroundings, to observe the favorable conditions of the existence of the birds and other fauna species, we recommend with great pleasure birdwatching in the Delta!
Birdwatching tips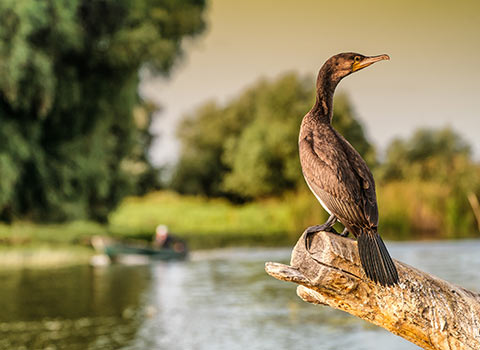 For this activity there are used different constructions like the taller towers or the boats which can get you close to the birds' nests. In order to not scare the birds away, it's not recommended a crowd close to the nests. You can take photos without flash, speak quietly, do not make noise with any equipment so that everyone can enjoy birdwatching.
The Danube Delta is a natural and rich heritage represented by the unique vegetation and the unique species of birds which you can observe. Gulls, pelicans, grebes, ducks and woodpeckers present a unique, complex and attractive biodiversity for those who are interested in the secret life of birds. Birdwatching is a trip that you must see when you visit the Danube Delta!